Here are the Best Upcoming
Fall Events in Aiken SC in 2023
Welcome to the charming town of Aiken South Carolina, where horses have the right of way and Southern hospitality is an expectation. Nestled in the heart of the Palmetto State, Aiken is a town brimming with history, elegance, and a calendar full of exciting events that cater to all tastes and interests. Whether you are a horse enthusiast, a lover of the arts seeking captivating performances, or simply someone looking for a welcoming community to explore, Aiken has something special in store for you. Read on to discover the best fall events in Aiken, SC today.
There's nothing like autumn in Aiken, when the cooler weather and colorful changing leaves entice us to go outside and enjoy the sunshine. However, this lovely Southern town is a dynamic and captivating destination year-round. If you are thinking about relocating to the area, contact Aikenhorserealty today. We would love to help you find your place in Thoroughbred Country! 
Here are the Best Fall Events in Aiken, SC
Aiken Fall Festival I & II – September 6 – 10 &  13-17
If you are looking for fall events in Aiken, SC, this weekend, don't miss the Aiken Fall Festival at Bruce's Field. Hundreds of horses and riders are scheduled to participate in this year's Premier AA Rated Level 4 Jumper competition. High stakes prizes include a $30,000 Grand Prix Each Week, the $10,000 USHJA International Regional Hunter Derby Finals, $7,500 William Howard Memorial, $7,500 Junior & Amateur, SCHJA Governor's Cup and much more. This horse show is free and open to the public, and spectators are encouraged to attend.
Aiken's Makin: September 8th – 9th 
 Aiken's Makin is the largest and most-anticipated arts and crafts show in the CSRA. Now celebrating its 48th year, the two-day festival features the very best that local and regional artists have to offer. Vendors are onsite to chat with guests about their art and inspirations. Take your time browsing for colorful paintings, folk art, pottery, personalized gifts, handmade clothing, hand woven baskets, iron work, candles, textile art, jewelry, hair accessories, handbags, handmade cards, leather, mosaic, homemade soap, wood, canvas art, stained glass, and much more. In addition to the arts and crafts, you'll find a delicious array of food items like sweets, dips, jams, kettle corn, fudge, and homemade pickles. The festival will take place Friday from 9 a.m. – 6 p.m. and Saturday from 9 a.m. – 5 p.m.
Fall Polo in Aiken: September 13 – Nov 5th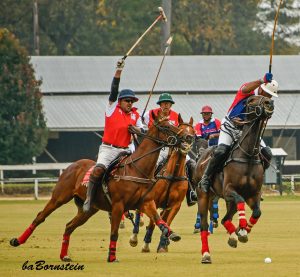 Fall season is just around the corner, and that means it's time to get ready for fast, competitive polo! Polo is more than just an equestrian sport, it's a lifestyle for many in Aiken. Enjoy a beautiful afternoon outdoors while you tailgate and socialize with friends. Feel the excitement as you watch the players and ponies skyrocket across the field. Admire the athleticism, endurance, speed, and skill of the polo ponies and pros from around the world. Attending a polo match is an experience you must try at least once when living in Aiken! Luckily there are many ways to watch:
Matches at New Bridge are open to the public on Sundays in fall. Admission is free and spots by the sideline of Field #1 (by the Clubhouse) are available on a first-come, first-serve basis. Bring your own tailgate or purchase drinks and food from the Clubhouse. New Bridge Polo's fall season kicks off on September 13th and runs through November 5th. See the 2023 New Bridge Fall Polo Season schedule here. 
Aiken Polo Club at Whitney Field
Aiken Polo Club also has matches open to the public every Sunday in fall at 2pm & 3:30pm. These matches are held on historic Whitney Field, located at 420 Mead Avenue in Aiken's Historic Horse District. The games usually last an hour and a half to two hours. General admission is $5 per person with free parking in the sand lot next to the field. Fieldside parking (limited availability) is $50 per car. Admission to the Alan Lyle Corey Pavilion is $75 per person and includes open bar and catered food. Always check the hotline before heading to the field, especially if conditions are wet or the weather is threatening. 803-643-3611. Aiken Polo Club's season also runs September 13th – November 5th. See the 2023 Aiken Polo Club Fall Season schedule here. 
La Bourgogne Club de Polo
Located between Aiken and Wagener, La Bourgogne is one of the newest pro-am leagues in the area. David Meunier is the founder and owner of the venue at 1150 Coleman Bridge Road. Games are on Friday afternoons. Pavilion games every Saturday at 3 and 4:30 p.m. The public is welcome to attend and there is no admission fee. See the 2023 La Bourgogne Club de Polo Fall Season schedule here.
Also, be sure to mark your calendar now for the AFM Give Me Wings 20 Goal Charity Polo Match on October 21st at 3 p.m. High goal, professional Polo returns to Aiken for the first time in nearly 20 years with a $30,000 prize. This special event is catered by the Wilcox and tickets are available for purchase online. Only at La B!
Amp the Alley: Every Thursday Night
 Did you know that you can enjoy live music every single Thursday night in downtown Aiken? Amp the Alley is a concert series featuring a local band every week. From country to rock and roll, there is something for everyone. Bring your friends, have dinner and drinks at one of the local restaurants and enjoy a fabulous night of great music. The stage is set in the Alley, at the rear of the municipal building directly across from the Taproom. 
Here is a list of the upcoming performances:
September 7th at 6:30 p.m.: The Mason Jars
September 14th at 6: 30 p.m.: Ryan Abel & Friends
September 21 at 6:30 p.m.: Kenny George Band
September 28th at 4 p.m.: Doc Fisher & The Undefeated Army
October 5th at 4 p.m.: Rae's Creek Revival
October 12th at 4 p.m.: Tim Cadiere
October 19th at 6:30: Bodega Cat
October 26th at 6:30 Whiskey Run
Hopelands Gardens & Rye Patch History Walk: September 8th, October 6th, & October 13th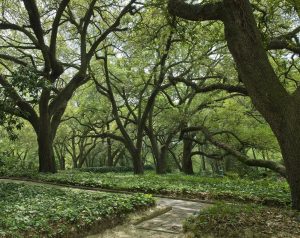 Calling all nature lovers and history buffs! You can experience the best of both worlds at beautiful Hopelands Gardens this fall. Join Allen Riddick, Aiken's own local historian, for a walk back in time to Aiken in the age of the Winter Colony (late 1800s). Learn about Hopelands Gardens and Rye Patch, the historic properties, and the families (Rogerses and Iselins) who owned them. The history walks are scheduled for September 8th, October 6th, and also October 13th, weather permitting. Please meet in front of the Thoroughbred Racing Hall of Fame and Museum.
Please visit the website to register, and to view more upcoming events at Hopelands Gardens.
Aiken Symphony Presents Rachmaninov & Tchaikovsky:
September 22nd from 7:30 – 9 p.m.
Attention classical music fans! Maestro Weiss and the Aiken Symphony open the 2023-24 season, A Sensation of Sound, with two powerful works: Rachmaninov's Piano Concerto No. 2 and Tchaikovsky's Symphony No. 5. Hailed for his "faultless technique, beautiful expressivity, and transparent artistry," world renowned pianist Zhu Wang also joins Aiken Symphony musicians. Get your tickets now!
Low Country Boil at the Aiken County Historical Museum:
September 29th 6 – 9 p.m.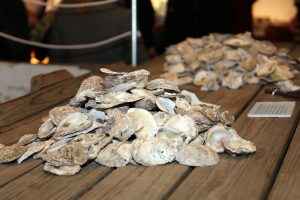 The crisp weather of autumn welcomes the return of Low Country Boils and camaraderie with friends in South Carolina. Bring your appetite and enjoy a traditional Low Country Boil with fresh oysters, lawn games, and live music at the Aiken County Historical Museum. In addition to delicious food, there will be a silent auction and live music with RedFoxWood on the beautiful grounds of the museum. Tickets can be purchased online here. Admission includes beer and wine and a Lowcountry Boil provided by JC's Seafood. All proceeds help to build exhibits, bring educational programs to students, and preserve Aiken County's history. Dress is casual. Get your tickets today for one of the best fall events in Aiken, SC!
Best of the West Horse Sale:
September 29th – 30th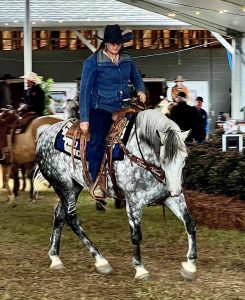 Best of the West Horses is pleased to bring broke, experienced, and above all, trustworthy horses to Aiken, South Carolina. With solid training and real world experience, these horses are ready to settle into the discipline of your choice and are offered by respected trainers. The Best of the West Pre-Sale kicks off at 2 p.m. Friday, September 29th with tradeshow shopping, a preview of the sale horses, and a ticketed dinner event available for purchase. On Saturday, the sale officially begins. The tradeshow opens at noon and the sale begins at 2 p.m. Admission is free, but reserved seats are also available for purchase.
Aiken Oktoberfest: October 7th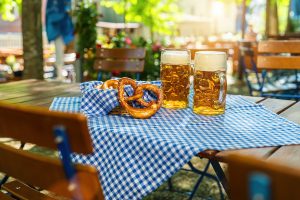 Looking for free fall events in Aiken, SC? Wear your most festive German attire and head to Newberry Street for the 10th annual Oktoberfest in downtown Aiken! There will be authentic German food, plenty of German beer, and great live music. Do you enjoy spending your Saturday night watching College Football? Don't worry! The games will be broadcast on a big screen for everyone to see! Bring your pets, family, and appetite to this fun Fall festival in Downtown Aiken!
Wild West Fall Fest and New Bridge Polo:
October 8th 4 p.m. – 8:30 p.m.
Wild West Fall Fest will be held at New Bridge Polo in conjunction with the finals of the USPA Northrup Knox Cup 8 Goal® polo tournament. VIP tickets for the clubhouse, a silent auction and other family fun activities are being planned. Reserve your tickets now.
Aiken Music Fest:
October 13th 6 p.m. – 10 p.m.
You can also enjoy great concerts in Aiken, SC at the Aiken Music Fest! Big Sky Revival is set to take the stage on October 13th, accompanied by special guest, She n She. A local South Carolina band, Big Sky Revival is known for blending genres of bluegrass, rock, funk, and reggae. You won't want to miss this high energy performance! 
The Aiken Music Fest is a 6-event music series held on select Saturday nights from 6 – 10 p.m. at Highfields Event Center. Each event features a top local talent followed by a headliner band that is currently touring the Southeast. Admission is just $15 per person and the concert is family friendly. Refreshments and food are available from local vendors.
Western Carolina State Fair: October 13 – 22, 5 p.m. – 10 p.m.
When it comes to fall events in Aiken, SC, this is one you won't want to miss! The Western Carolina State Fair is full of family fun with rides and tasty fair food. Entertainment includes ground acts, competitive exhibits and competitions, a rodeo, and a demolition derby. The fair is located at 561 May Royal Drive Aiken, SC.
Mane and Shell Oyster Roast & Lowcountry Boil at Aiken Equine Rescue: October 19th 6 – 9 p.m.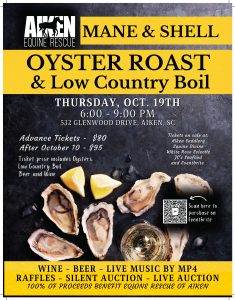 Roast, shuck, eat, repeat! The Aiken Equine Rescue is proud to host the annual Mane and Shell Oyster Roast and Lowcountry Boil. Come on out for all-you-can-eat oysters, a delicious Lowcountry boil, beer and wine, live music by MP4, a raffle silent auction, and live auction. Tickets are available online at Eventbrite or at Aiken Saddlery, Equine Divine, White Rose Eclectic, JC's Seafood and the Rescue.  This is the 4th annual Mane & Shell event celebrating 17 years of transitioning horses to adoptive homes. Tickets are all-inclusive and 100% of proceeds benefit the Equine Rescue of Aiken.
AFM Give Me Wings 20 Goal Charity Polo Match:
October 21st at 3 p.m.
Mark your calendar now for the AFM Give Me Wings 20 Goal Charity Polo Match on October 21st at 3 p.m. – late night. High goal, professional Polo returns to Aiken for the first time in nearly 20 years with a $30,000 prize. Usually, 20+ goal polo is reserved for venues like Wellington, Florida, home of the US Open. Come enjoy this incredible sport, fantastic hospitality, and the weather and culture of one of America's most incredible 'horse towns'.
This special event is catered by the Wilcox and tickets are available for purchase online. 
Sister Hazel at Jack-o-lantern Jubilee:
October 28th at 7 p.m.
Sister Hazel is an American alternative rock band, best known for their 1997 hit single 'All For You" which reached the Top 10 on the Billboard Hot 100 chart. Originating from Gainesville, Florida, the band's style blends elements of jangle pop, folk rock, classic rock, and southern rock. See them live this October in North Augusta at the Jack-o-Lantern Jubilee!
Fall Steeplechase Championship: November 18th 8 a.m. – 4 p.m.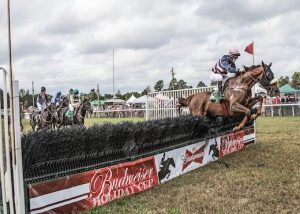 Fall 2023 is especially exciting because The National Steeplechase Association's final race of the season takes place right here in Aiken, SC, this year. Not your average horse race, The Aiken Fall Steeplechase Championship will determine the top trainer, rider, and horse of the year. This is one event you do not want to miss!
The sport of steeplechase racing will be celebrated for the entire week leading up to the Fall Steeplechase race. Dignitaries from every steeplechase race in the country will be in attendance for the National Steeplechase Association's annual meeting held in Aiken earlier in the week. There will be a gala on the evening of the race on Saturday, November 18, 2023. The gala is open to the public and recognizes the nation's best in Steeplechase. Don't wait; Get your tickets now to the 30th running of the Aiken Fall Steeplechase!
The Blessing of the Hounds:  November 23 at 9am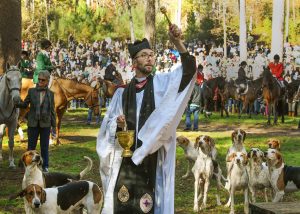 The Blessing of the Hounds is a Thanksgiving Day tradition in Aiken, SC. Every year, residents and visitors alike gather by Memorial Gate in Hitchcock Woods to watch the timeless ceremony, which pays homage to the various traditions of foxhunting, the heritage of Aiken's historic hunt culture, and the skilled hounds that make this sport so engaging. Observe the Blessing, officiated by a local clergyman dressed in ceremonial white robes. Then, share in the excitement as the Aiken Hounds officially kick off their hunt season. When the horn blows, all that can be heard is the sound of baying hounds and thundering hooves as horses and riders take off into the forest. Wish them well!
There is no parking at the South Boundary entrance but attendees may park downtown. Plan a 15 – 30 minute walk from downtown into the Woods. No motorized vehicles or dogs are permitted for this event. The event is free.
Bloodies and Bagels: November 23rd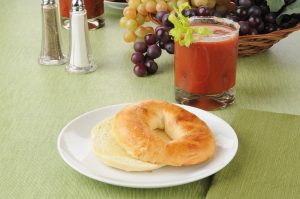 Directly after the Blessing of the Hounds, walk over to Banksia for a cup of holiday cheer! The annual "Bloodies and Bagels" event takes place on the grounds of one of Aiken's famed Winter Colony cottages. Now home to the Aiken County Historical Museum, it is a wonderful place to gather for a delicious Thanksgiving Day breakfast. Come mingle with friends and enjoy complimentary Bloody Marys, assorted bagels and cream cheese, coffee, and cider.
Historic Aiken Trolley Tour: Every Saturday at 10 a.m.
One of the best ways to get to know historic Aiken is by taking a trolley tour. See and hear about historic homes and churches, equestrian sites, the Civil War's Battle of Aiken, the live oak canopy on South Boundary Avenue,  a guided walk through Hopelands Gardens and the Thoroughbred Racing Hall of Fame & Museum (weather permitting), and much more.The Historic Aiken Trolley Tour departs the City of Aiken Visitors Center & Train Museum (406 Park Ave SE, Aiken), at 10 am each Saturday. Reservations are strongly encouraged, as tickets often sell out two to three weeks in advance. Please arrive by 9:45 a.m.
Join Us this Autumn in Aiken, SC
You can enjoy all of these fall events in Aiken, SC, when you live in the heart of it all. If you have been thinking of relocating to The Palmetto State, fall is an amazing time to come and check it out. The weather is great, new listings are now hitting the market daily, and there are so many fun events to attend. Contact Suzy Haslup (803) 215-0153 or Kathryn Siders (843) 803-8827 to set up a consultation and find your place in Thoroughbred Country. We can't wait to welcome you!
P.S. Keep checking our blog updates for upcoming Aiken Thanksgiving events, Christmas celebrations, New Years Eve events in Aiken, SC and more!