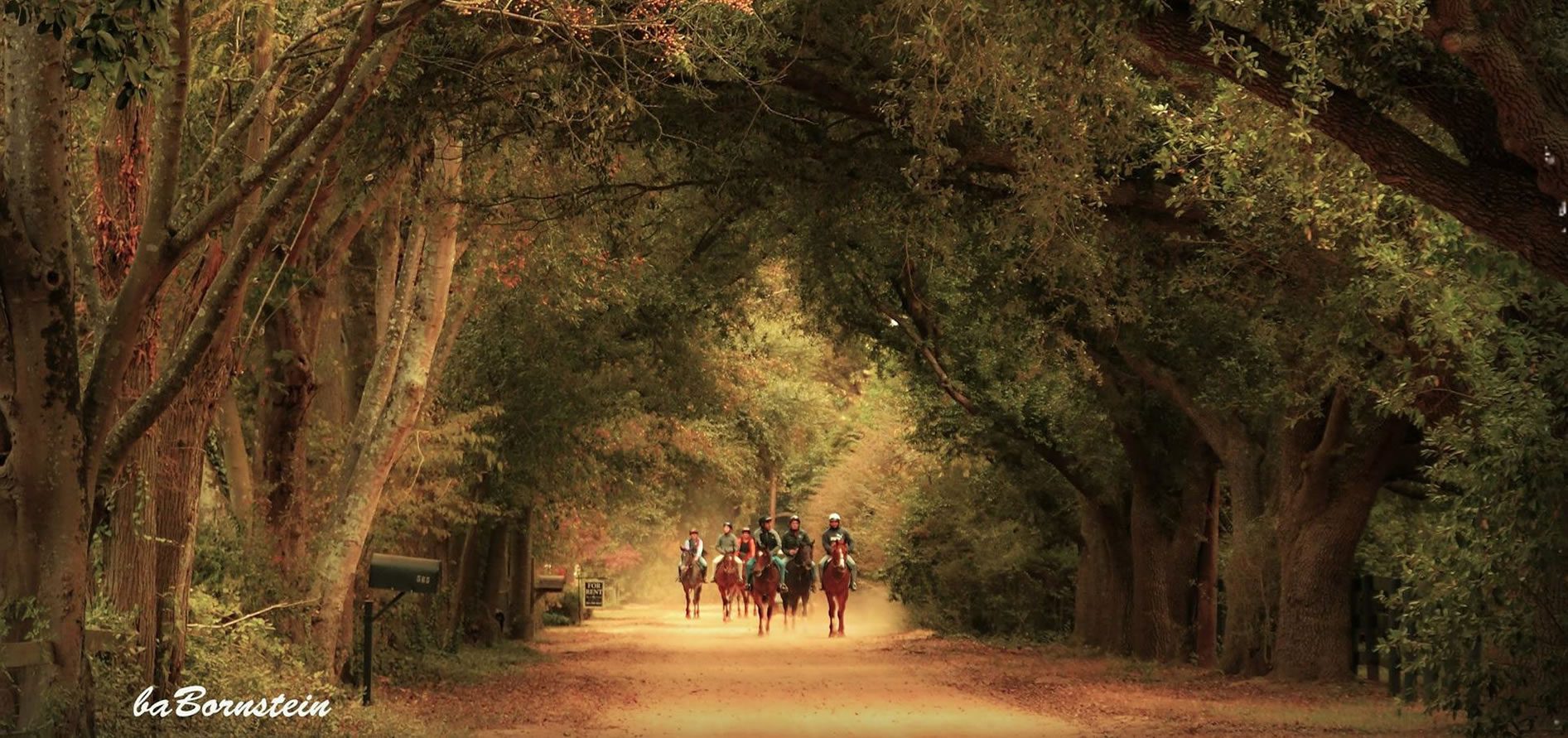 There's a very good reason that Aiken, South Carolina, is considered the best equestrian community in the South. Where else can you find tournament-grade polo, professional show jumping, fox hunting, dressage, three-day eventing, carriage driving, and a world-class training track that has crowned more than 40 champion Thoroughbreds? Once a winter getaway for the Northeast's elite, Aiken is now renowned as the "South's Best Small Town" and is a mecca for equestrians from around the globe. It's also one of the only places in the world where horses have the right of way! No matter your discipline, the possibilities are endless when you live in the heart of horse country.
Are you thinking about relocating to Aiken? With more than 22 years of Aiken real estate experience, Suzy Haslup can help you find the perfect property to fulfill all of your equestrian needs. Contact Suzy at 803-215-0153 to begin your home search today!
A Winter Colony Then. An Equestrian Paradise Now.
In 1941, renowned horsemen Fred H. Post and his son William came to Aiken to play polo. Aiken was revered as a national polo capital, and the town's lure as a 'Winter Colony' for wealthy Northerners was well-established by that time. The comfortable climate of mild winters and early springs combined with the sandy soil was ideal for the pursuit of a variety of equestrian activities. Post, impressed by the area, decided to construct the Aiken Training Track to condition his flat racers. He found the perfect location along Two Notch Road where his track would be surrounded by established polo fields and quiet dirt roads. The track was also within hacking distance to the Hitchcock Woods. With more than 2,000 acres and 70 miles of sandy trails, this is one of America's largest urban forests!
It didn't take long for the Aiken Training Track to be considered one of the finest training centers in the country. Horses trained here began earning their championship laurels as early as 1942, starting with Elkridge, a champion Steeplechaser. Famous horse owners with names like Greentree, Vanderbilt, Rokeby, and Claiborne Farm started sending their horses to Winter in the South under the care of future Hall of Fame trainers Mackenzie (Mack) Miller, John Gaver, William Burch, and Woody Stephens, among others. Since that time, 40 Champion Thoroughbreds have been crowned. Today, visitors can learn about each of them at the Racing Hall of Fame Museum in Hopeland Gardens.

The Aiken Triple Crown
Held annually for three consecutive Saturdays in March, the Aiken Triple Crown is a favorite tradition for both locals and visitors alike. The threefold event includes the Aiken Trials, the Spring Steeplechase, and the Pacers and Polo game.
The Aiken Trials offers the rare opportunity to see some of the track's top young Thoroughbreds in action. The event kicks off with an opening ceremony and a carriage parade. Then, spectators can cheer on their favorite horses and jockeys as they compete in an exhilarating race to the finish. Besides being a great day of family fun, the event is also a major fundraiser for the charitable organization.
Drawing more than 30,000 spectators from across the country, the Spring Steeplechase makes up the second leg of the Aiken Triple Crown. Dating back to 1931, the very first meet was run in the Hitchcock Woods. Now, the Spring Steeplechase is one of the most-anticipated events of the year! Held each spring at Bruce's Field, jockeys contest races that are 2 ¼ miles in length over a series of fences. It's an exciting day of horse racing, tailgating, fashion contests, shopping, and good-natured side betting. There is also a Fall Steeplechase meet held in Aiken each October.
The third and final event of the Triple Crown is the Pacers and Polo game. Held at Powderhouse Field, the event includes an opening ceremony, 6-seven minute chukkers, and an awards ceremony at the end of the match. The annual polo match benefits scholarships for students at USC Aiken, ranked the number one public regional college in the South for thirteen consecutive years.
Other Equestrian Opportunities in Aiken
Polo
Steeped in tradition, the Aiken Polo Club is one of the most historic polo clubs in the country. Its very first game was held in 1882 at Whitney Field, the site of the longest consecutive period of play on one field in the US. The Aiken Polo Club still hosts club polo and exciting medium goal tournaments here today. If you prefer high-goal tournament action, be sure to catch a match at Langdon Road Polo Club or New Bridge Polo and Country Club. With mild winters and warm summers, Aiken's temperate climate allows for longer playing seasons in both the spring and the fall.

Carriage Driving
Aiken has a very strong carriage driving community. From recreational driving to competitions, there is something for everyone here! Founded in 1985, the Aiken Driving Club has hundreds of members and continues to grow. Competitive in both local and out-of-state shows, they exhibit their elegant horses and carriages in festive parades and events all year long. The Katydid Combined Driving event in the fall at Katydid Farm in Windsor, SC, has become one of the sport's premier events and draws competitors from across the country.
Dressage
There are also many opportunities for dressage in Aiken. Stableview and Bruce's Field host USEF/USDF dressage shows throughout the year. Stableview is a top-notch international facility that boasts a 300 ft. x 250 ft. covered arena, a 300 ft. x 250 ft. outdoor arena with GGT sand blend footing, and a new dressage arena with GGT sand blend footing. Nestled in the historic horse district, Bruce's Field offers five all-weather rings with GGT footing. The brand-new Vista Schooling and Event Center is another ideal choice for dressage riders. Designed for all levels of riders, the facility features a variety of large and small sand dressage rings for training and showing.
Show Jumping
Aiken is home to a wide array of premier Hunter and Jumper equine training facilities and showgrounds, such as Bruce's Field and Stableview. Progressive Show Jumping also organizes a number of shows throughout the year at Highfields Event Center. Don't forget to mark your calendar for the annual Aiken Horse Show in the Hitchcock Woods! A local tradition for more than a century, this is one Hunter/Jumper show you won't want to miss.

Three-Day Eventing
Aiken has established itself as one of the nation's premier winter training centers for the sport of three day eventing. The United States Equestrian Team Foundation hosts a number of training sessions in Aiken each winter. In addition, the five nearby eventing facilities- Bruce's Field, Full Gallop Farm, Jumping Branch Farm, Paradise Farm and Sporting Days Farm, offer competitions and schooling shows throughout the winter season. New for March 2019 is a Grand Prix Eventing Invitational at Bruce's Field, where the world's top 40 advanced riders will be invited to compete.
Fox Hunting
The Aiken Hounds' annual Blessing of the Hounds in Hitchcock Woods on Thanksgiving morning has become a rite of passage, drawing hundreds of spectators each year. In addition to the Aiken Hounds, the area is home to the Whiskey Road Foxhounds, the Why Worry Hounds, and the Belle Meade Hounds in Thompson, GA.
Relocating to Aiken? Contact Suzy Haslup Today
From fox hunts and trail rides to polo matches and competitions, Aiken has something to suit every equestrian lifestyle. However, that's not all that this historic town has to offer. Aiken also boasts several world-class golf courses, excellent dining and shopping options, and an exciting social scene. If the thought of great weather year-round and endless activities appeals to you, then this may be the community for you! Browse through available Aiken horse properties today. Then, contact Suzy Haslup at 803-215-0153 to begin searching for your dream home. We can't wait to welcome you to horse country!