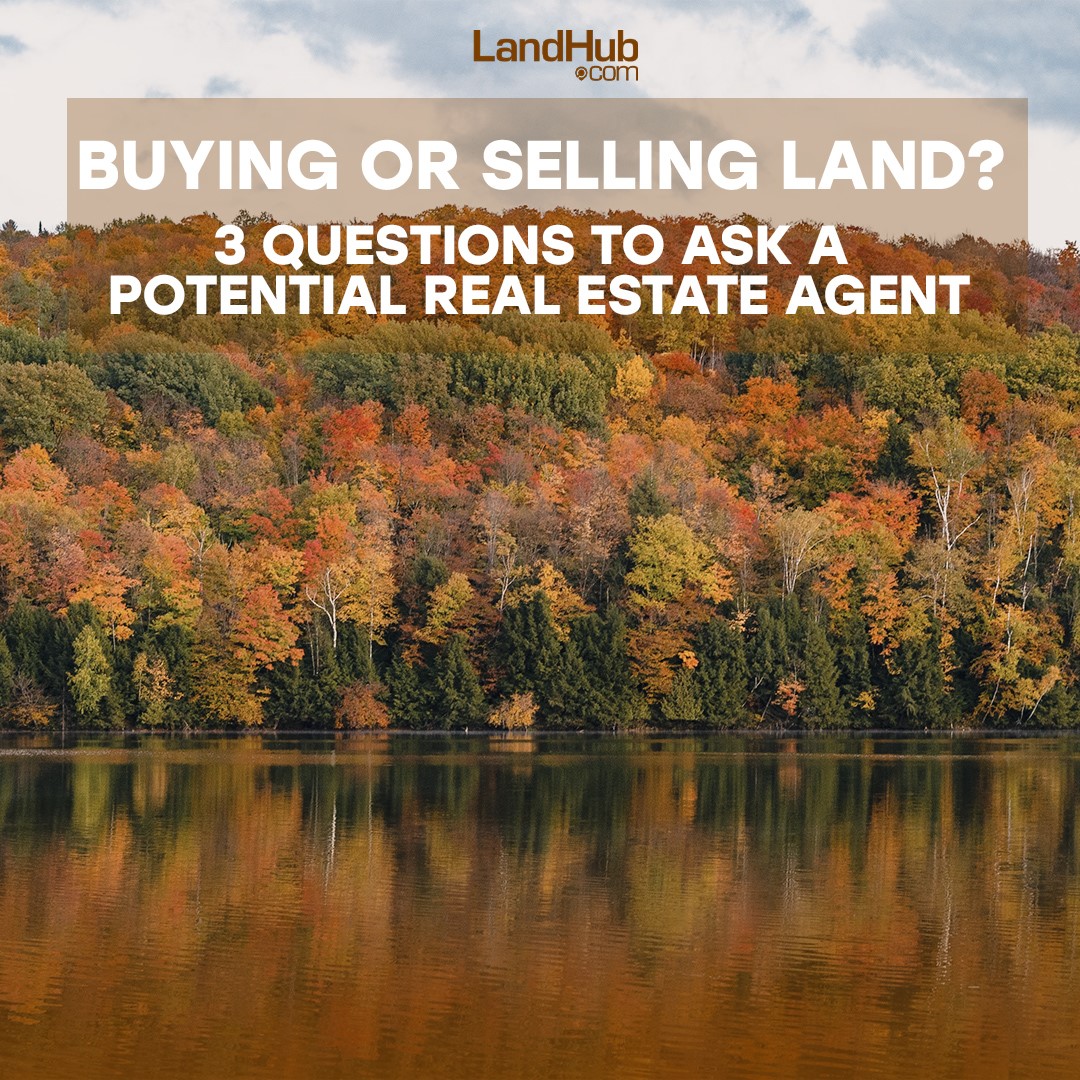 A lot of decisions go into buying or selling a property. And one of the biggest (but often most under-appreciated) is who you choose as your real estate agent.
A great real estate agent can smooth out a stressful experience and ensure your land deal proceeds with ease. They can also provide expert insight during the sale process and be a valuable asset at the negotiation table.
Of course, not all agents are equally up to the task, especially in the more specialized land market. For that reason, you'll want to be sure to do your due diligence when selecting your agent – and that includes asking the right questions.
We recently connected with Nebraska real estate agent Koby Rickertsen, who shared these three top questions that land buyers and sellers should be asking a potential real estate agent before deciding if they're the right fit for the job.
1. How long have you been in the business?
There's nothing wrong with hiring a rookie agent. But if you do, it's important they have access to an experienced partner who can provide them (and you) with guidance.
"New agents are [often] hungrier and will work harder for you if given the chance," says Rickertsen, "but you'll want to make sure they're backed up by a solid mentor or partner who is going to be in the process every step of the way."
Keep in mind that you're asking about experience in the land market specifically. Rickertsen notes that residential agents don't always have the know-how to handle land deals, and that "if you are transacting on a specialty property, you need a specialist."
2. How will you market my property?
For sellers, it's essential to get a full picture of the marketing tactics that will be used to get prospective buyers in the door. And while Multiple Listing Service (MLS) is a good place to start, it's not enough on its own. The right agent, says Rickertsen, will have a more comprehensive marketing plan in place, which will include social media, mail marketing, and listing sites like LandHub.
3. What partnerships do you have in place to make sure my transaction goes smoothly?
One benefit of working with a pro is that they'll likely have an existing network of professionals you can tap during the selling or buying process.
"Most land professionals have partnerships with lawyers, title specialists, insurance companies, lenders, [and so on] to help your sale go as smoothly as possible," says Rickertsen. That's a nice bonus, and can take a lot of work – and stress – off your shoulders.
As part of utilizing these partners, a good real estate agent will also provide insight on when you need to be contacting each of them, adds Rickertsen. For example, if you're preparing to sell land, you want an agent who can help you square up the legal aspects before you ever list.
Overall, Rickertsen recommends interviewing at least three to four real estate agents before deciding on who you want to go with. As an additional tip for those in the land market, he also recommends choosing someone who is a member of the Realtors Land Institute or is an Accredited Land Consultant.
Take your time when choosing an agent, and don't be afraid to speak up for what you want and need. The more effort you put into selecting a standout agent, the more you have to gain.
Buying or Selling Land in Aiken, SC? Contact Suzy Haslup, Realtor and Accredited Land Consultant Today!
Are you interested in buying or selling land in Aiken, SC?  The first step is to ensure you are working with a Realtor who knows what they are doing. Leading the field in Aiken real estate for over 25 years, Suzy Haslup is the very best choice when it comes to land sales. Suzy's combined experience as a horsewoman and REALTOR make her one of the top agents in South Carolina. Her designation and experience as an Accredited Land Consultant for more than 20 years provides an added benefit to her clients who are looking for land. 
Whether it's an equestrian property, a hunting tract, raw land, pasture land, a small residential lot in a horse community, or a large 500+ acre property, Suzy is ready to assist with all of your real estate needs in Aiken, SC. Give her a call today for a free consultation, (803) 215-0153.